An overview of the trading activities on the cryptomarkets. Studies on traded volumes, supply and demand situations, as well as regular technical analyses of the most important crypto currencies and indices, including views of Crypto Finance AG Senior Trader Patrick Heusser.
Good morning!
Bitcoin BTC$ (4 hours)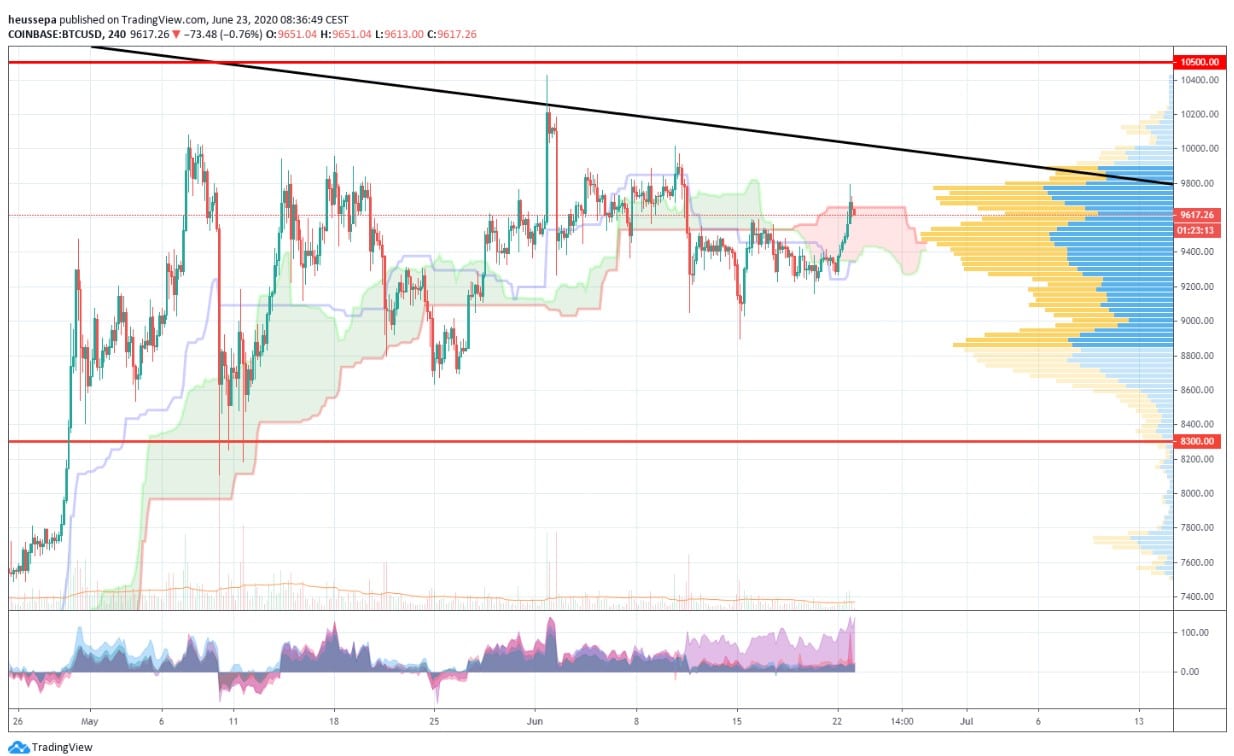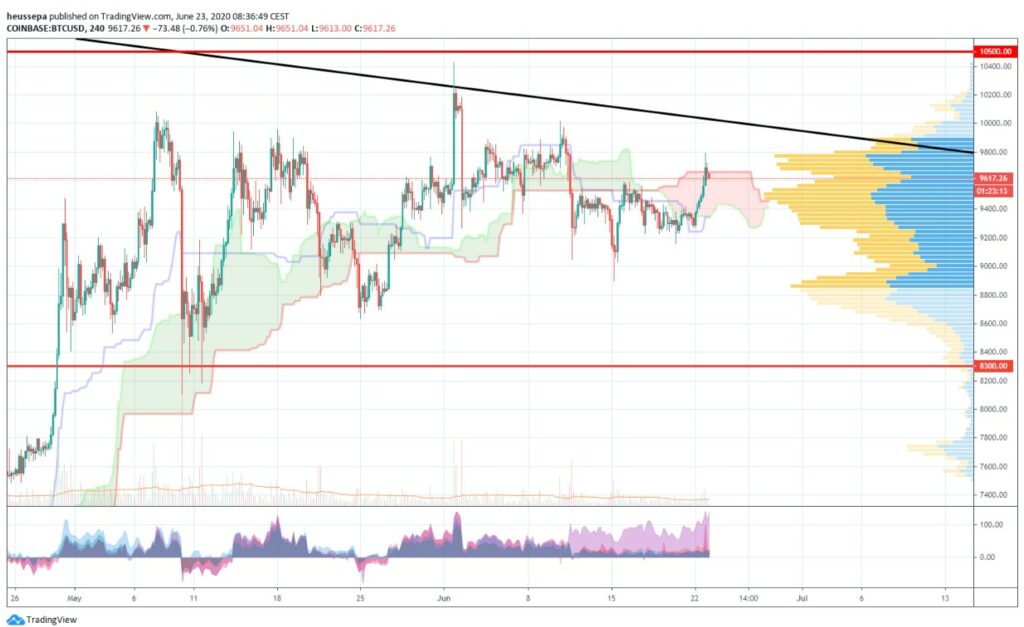 The sideways price action is wearing down the traders. Especially those who only do short-term business.

Maybe I should have put more emphasis on the order book cluster situation on Bitfinex (see picture).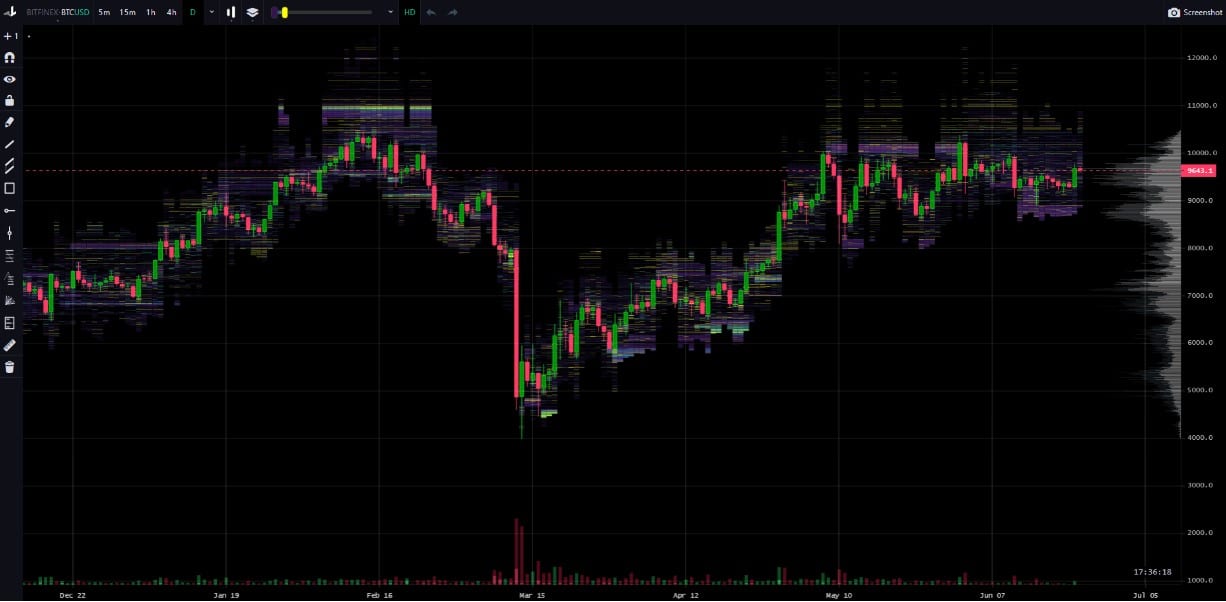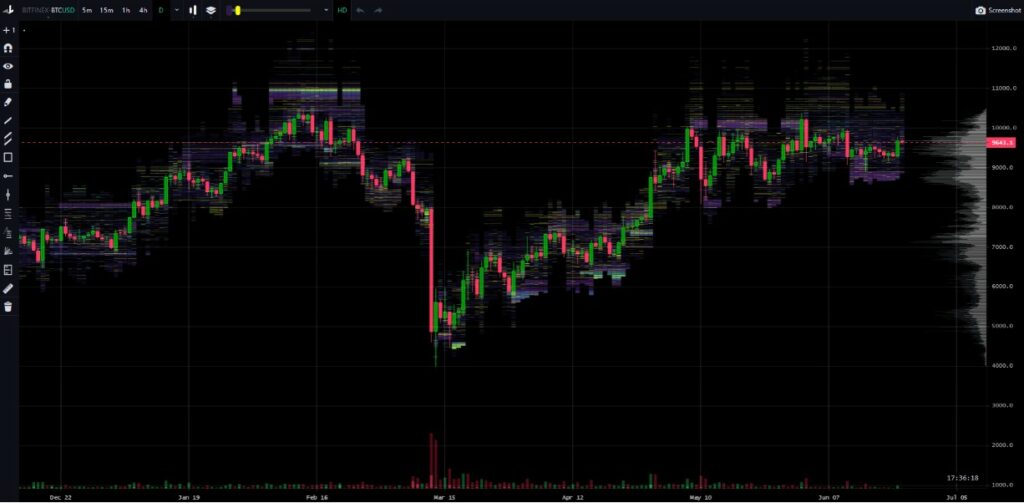 There, they stand firm: Whenever we went underground, the bids are serviced, but none of these "standing orders" backed down, as most of them did at Binance and Coinbase. In order to give this indicator a little more weight, I will now follow it closely on the upper side and on the sell orders. Will we see this when we get closer to 10.5k, as we did in May?

Even with the risk of sounding like a broken record, I repeat: the 10.5k resistance level is becoming more important.
Technical Analysis Ethereum ETH$ (4hours)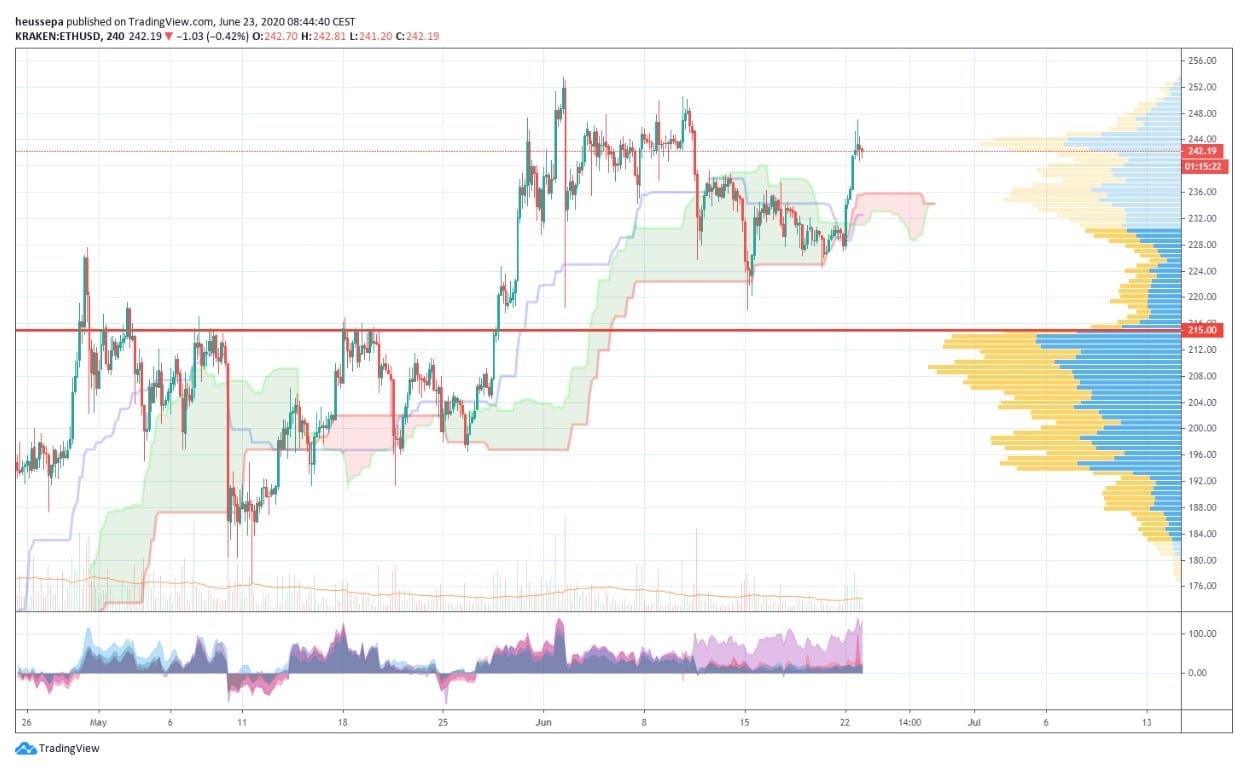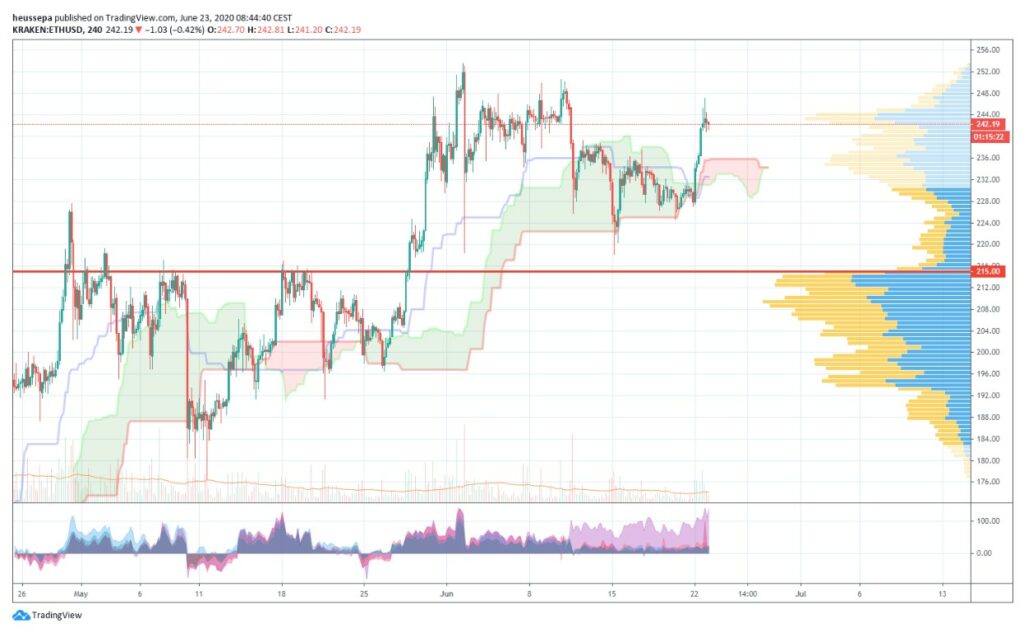 Well, ETH$ showed me the finger and turned to the right at the point where the baseline and the cloud crossed. The upward movement was fast and stopped just before my resistance level of $250 (I mentioned this level last week).

Looking at the order clusters of the various exchanges, I see some good offers at around $250-260 USD. If we push them through, the way is clear for new highs in 2020.
ETH/BTC (4 hours)M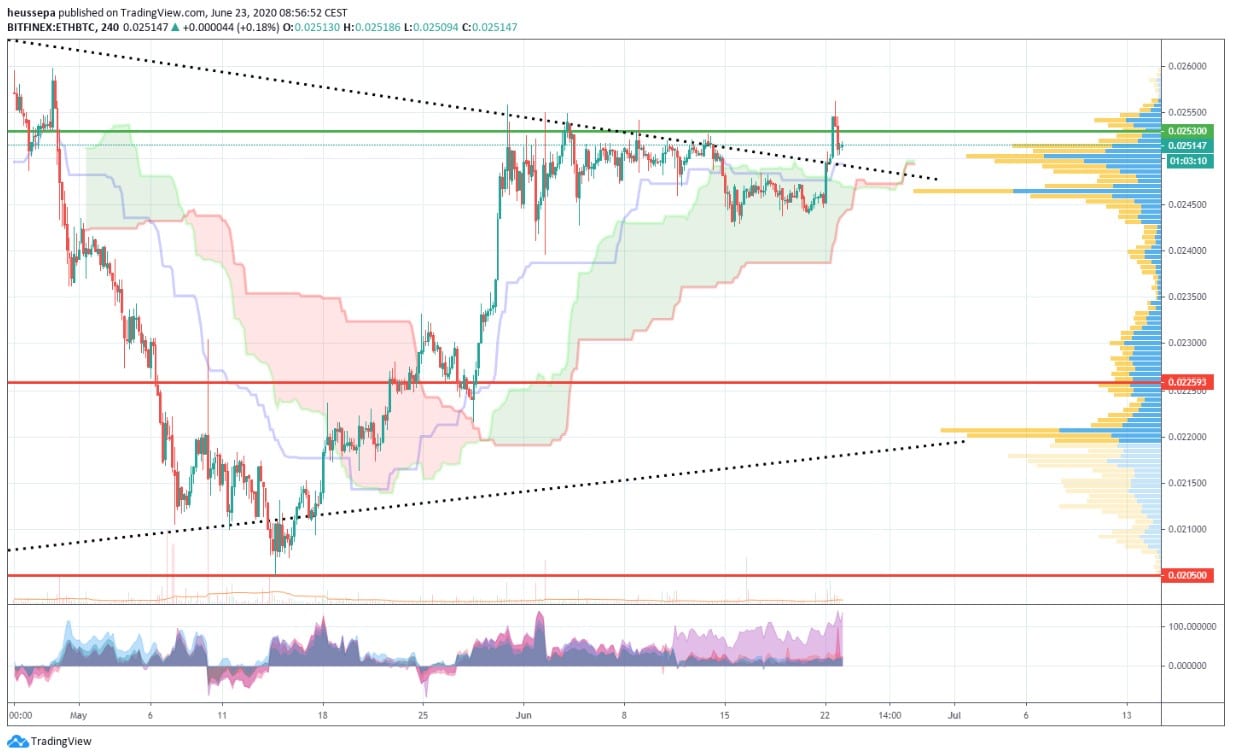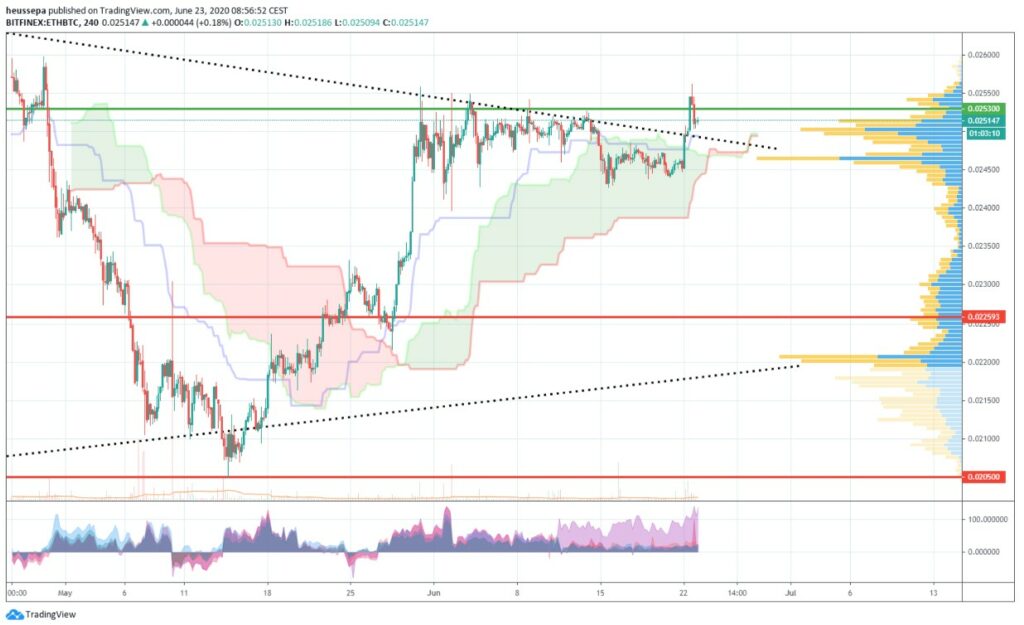 I still feel very indecisive when it comes to this couple. It seems to have a little more force up there. But on a daily basis, we have not (yet) managed to print a daily close above the resistance level of 0.02530.
ALT$ FTX index (4 hours)
We continue to trade in the broad range of $475-$605 and there are no clear signs of which direction the price might go.
MID$ FTX index (4 hours)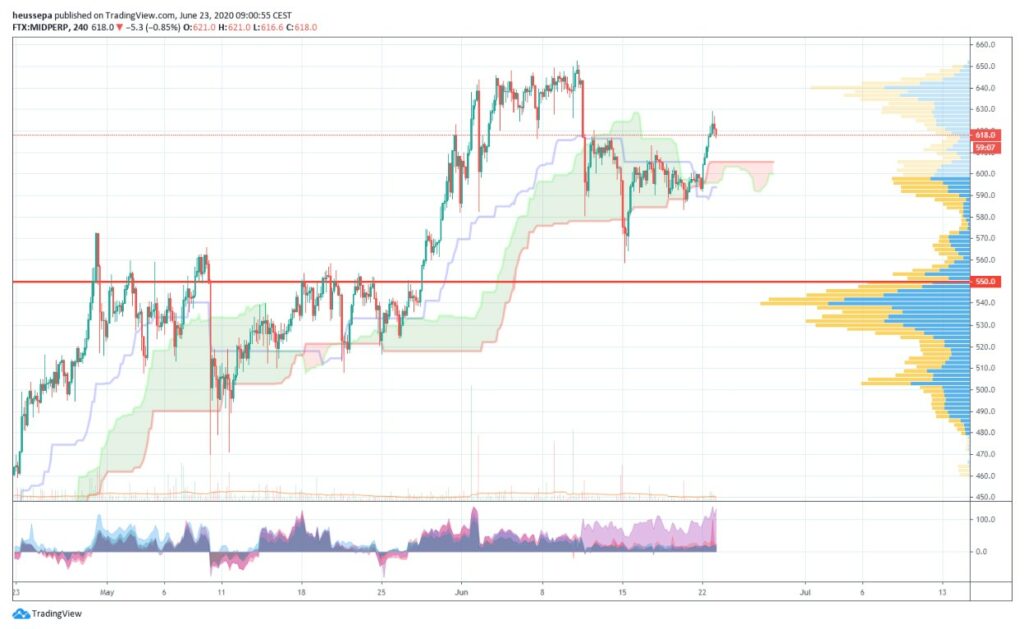 The support level of $550 has held up well and triggered a significant recovery. But prices were unable to move towards a new ATH.
SHIT$ FTX index (4 hours)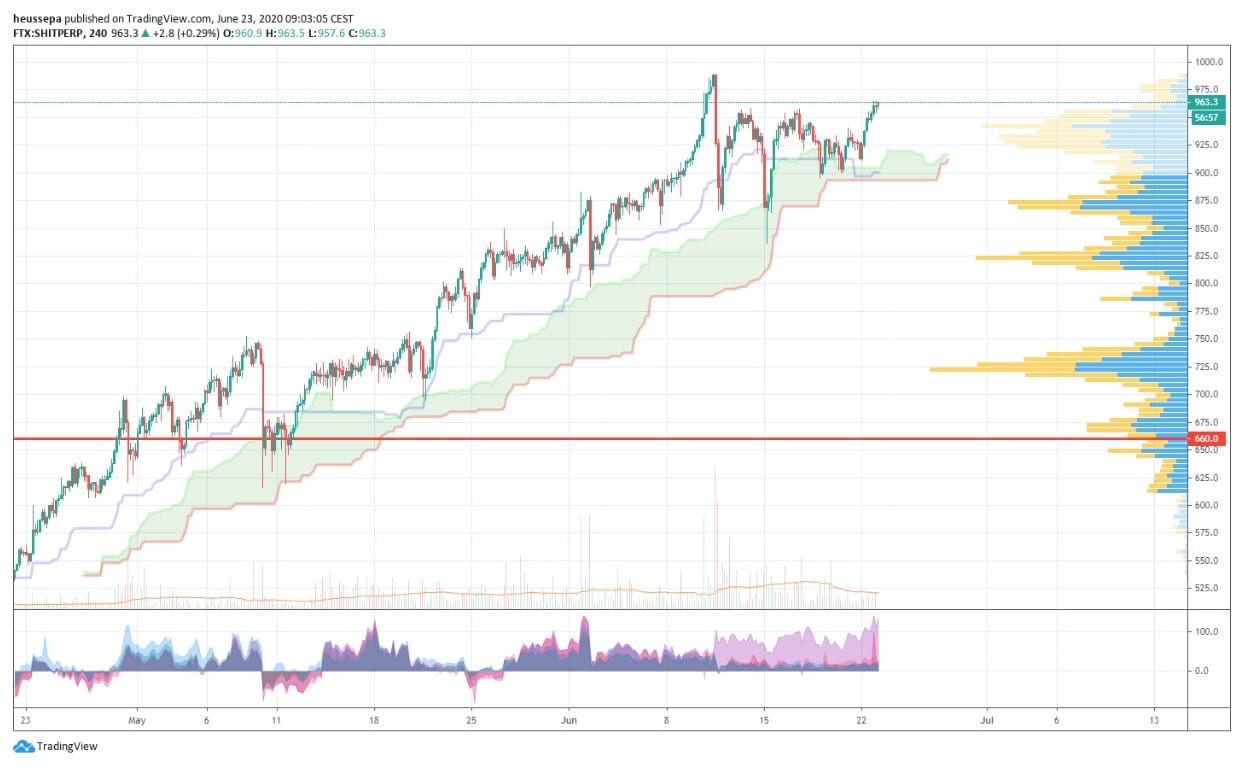 This market simply does not want to correct. We see some small consolidations, and then the trend resumes: surprisingly strong so far. We are not far from ATH, and the way this index is trading suggests that we will reach ATH sooner rather than later.
Copyright © 2020 | Crypto Broker AG | All rights reserved.
This publication and its contents, including all names, logos, designs and trademarks and all associated intellectual property and other rights are the property of Crypto Broker AG or third parties. They may not be reproduced or reused without their prior consent.
Disclaimer

All information in this publication is for general information purposes only. The information provided in this publication does not constitute investment advice and is not intended as such. This publication does not constitute an offer, recommendation or solicitation for an investment in any financial instrument including crypto currencies and the like and is not intended as such an offer, recommendation or solicitation. This publication is not intended for advertising purposes, but serves only as general information. The contents contained in the publication represent the personal opinion of the respective authors and are not suitable or intended as a basis for decision-making. All descriptions, examples and calculations in this publication are for illustrative purposes only. Although every care has been taken in the preparation of this publication to ensure that the information is correct and not misleading at the time of publication, Crypto Broker AG makes no warranty or guarantee, either express or implied, with respect to the information contained therein, its marketability or suitability for a specific purpose, or with respect to its accuracy, correctness, quality, completeness or timeliness. Crypto Broker AG excludes all liability and responsibility for the use of the information contained in the publication, including by third parties, in connection with trading or other activities, and for any errors or omissions contained in this publication.
Risk Warning

Investments and investments, especially in crypto-currencies, are generally associated with risk. The total loss of the invested capital cannot be excluded. Crypto-currencies are very volatile and can therefore be exposed to extreme exchange rate fluctuations within a short period of time. Any use of the information contained in this publication is exclusively and solely at the user's own risk. A user should always be aware of the associated risks before making any investment and investment decisions and should seek appropriate advice if necessary.
*Originally published in German at CVJ.ch