Most finance executives are not interested in Bitcoin as a corporate investment according to a recently published survey by the U.S. research firm Gartner. The reason for this among most respondents is the high volatility of the crypto asset.
Although a growing number of tech companies have invested in Bitcoin in recent months, many executives do not seem impressed. Of 77 finance executives (including 50 CFOs), nearly 84% are not interested in investing, according to a survey by research firm Gartner. Conversely, however, it can also be stated that one in five decision-makers is considering an investment. Compared to the past, this already represents a considerable increase in the perception of alternative digital investments.
High volatility and regulatory uncertainty
The clear majority saw the biggest problem for the crypto asset in its volatility. Other concerns of respondents include board risk aversion, slow adoption as a payment method, regulatory uncertainty and lack of expertise on Bitcoin & Co.
Biggest Concerns of Surveyed Finance Executives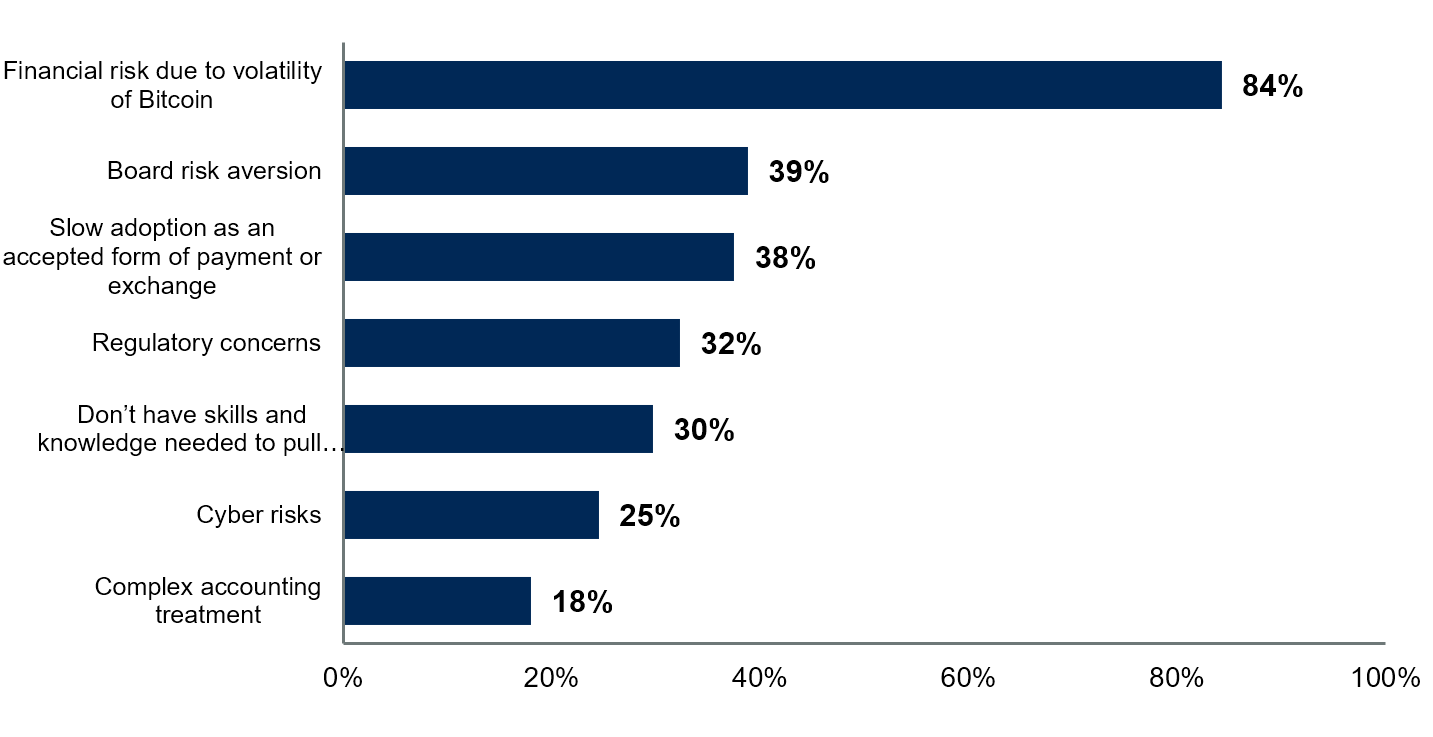 According to Chief of Research Alexander Bant, there are a lot of unresolved issues when it comes to using Bitcoin as a corporate asset. He doesn't expect a rapid increase in adoption among large companies until there is more clarity on these challenges. Indeed, more than half of respondents want to hear more from regulators first, and need time to better understand the risks of investing.
Bitcoin is still a young asset
Even the 16% of respondents who might consider investing into crypto as part of their financial strategy don't seem to be in a hurry: Five percent of respondents said they would like to own some Bitcoin as early as 2021. One percent responded with a timeframe between 2022 and 2023, while the remaining nine percent don't plan to invest in Bitcoin until after 2024.
It's important to remember this is a nascent phenomenon in the long timeline of corporate assets. Finance leaders who are tasked with ensuring financial stability are not prone to making speculative leaps into unknown territory.
Throughout the survey, no difference was found between small companies (<$1 billion in revenue) and large organizations (>$1 billion in revenue). Fifty percent of respondents from the technology sector expect to own cryptocurrencies in the future. In contrast, finance executives at private companies were less positive about Bitcoin. Only 7 percent said they would consider investing.
*Originally posted at CVJ.CH