A blockchain based fantasy soccer game has won over another famous European club. The German record-holder FC Bayern Munich has entered into a partnership with the company, and enters the world of blockchain soccer cards.
The blockchain platform Sorare has the vision to combine soccer cards with the blockchain technology. Since its launch in May 2020, the platform has seen steady growth in terms of trading volume, reaching peaks of USD 230,000 per week (see chart below). Sorare acquires the rights to the images of the players from the football clubs and sells the "blockchain card" via "non-fungible tokens (NFTs)" and subsequently via online auction. The growth of traded images on the blockchain is due to a growing community and new club licenses.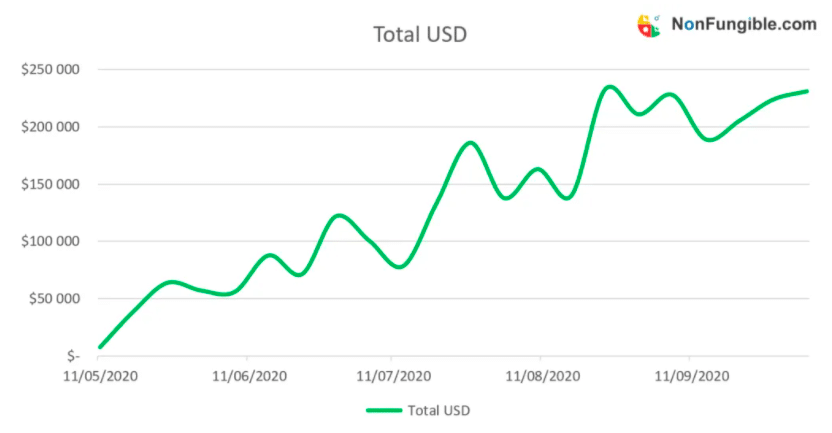 A short explanation of how the fantasy soccer game works:
Sorare acquires the image rights for the players from the football clubs and then sells the "blockchain card" at a profitable online auction.
Compared to the classic soccer cards, the trading cards are not sold in surprise packages, but the user can decide for himself on which card/player he wants to bid.
Thanks to blockchain technology, the identity of the owner of a particular player are always documented.
The purchased cards can then be used in a reality-based competition: The players are evaluated on the basis of their performances in real life (e.g. won duels or scored goals) and accordingly the player's "blockchain card" receives points.
The user who has collected the most points at the end of the game day receives prizes such as new trading cards or

 

Ether.
FC Bayern Munich joins the game
FC Bayern Munich has now also joined the blockchain project – as confirmed in an official press release. They have thus become the 102nd licensed club of the fantasy soccer game. Sorare has confirmed the entry of the current Champions League winner on Twitter.

https://twitter.com/SorareHQ/status/1326072199573336064?ref_src=twsrc%5Etfw%7Ctwcamp%5Etweetembed%7Ctwterm%5E1326072199573336064%7Ctwgr%5E&ref_url=https%3A%2F%2Fcvj.ch%2Fen%2Ffocus%2Fblockchain-en%2Fblockchain-soccer-game-gets-fc-bayern-munich-on-board%2F
Through games with so-called non-fungible tokens (NFTs), blockchain technology is slowly finding its way into the mainstream. The gaming sector is one of the most receptive industries for new technologies. It is, therefore, no surprise that blockchain technology is also being used in this sector. Also, a Japanese eSports team has recently announced that in the future they will pay their players in cryptocurrencies.

*Originally posted at CVJ.CH