Crypto-currencies are currently benefiting from steadily growing interest. With increasing investment diversity, there are more and more opportunities to invest in this area or to enter into trading with digital currencies.

There are numerous ways that interested parties can invest in crypto-currencies. First and foremost, the desired exposure to the digital assets is decisive. Do you want to own the digital assets yourself, or just participate in the price trend? Whether as an interested layman or advanced investor, the path to digital currencies can seem confusing at first glance.
There are now numerous vendors that offer an entry into the world of crypto-currencies. In addition to conventional crypto exchanges, there are, for example, also possibilities to enter the world of crypto currencies via apps. Instruments are now also traded on traditional exchanges, allowing investors to participate in the price development of Bitcoin & Co. In order to be able to choose an entry according to your own needs and ideas, you should first familiarize yourself with the available possibilities. An overview.

Crypto exchanges

A classic way to invest in crypto-currencies are crypto exchanges. Compared to the trading places of traditional assets such as stocks, commodities, etc., the trading of crypto-currencies is still young. Meanwhile, various providers offer a variety of trading opportunities. The online exchange is to be presented like a marketplace, i.e. a place where business can be conducted smoothly.

The whole thing is comparable to a stock exchange. Crypto-currencies are traded for fiat money or against other crypto-currencies (see currency pair). It is important to note that each exchange has independent prices, which depend on the transactions on that platform. The account management is also arranged with the exchange operator and there is a counterparty risk. It is therefore advisable to take a closer look at the various exchanges before making an investment. Our stock exchange overview is suitable for this research.
Mobile apps

In recent years in particular, the handling of digital currencies has attracted new interested parties. Not only stock market professionals, but also people with little experience are finding it increasingly easier to invest in crypto-currencies. There are now a number of apps for smartphones that are specifically designed to make buying and selling digital currencies as convenient as possible for the user. The service usually includes safekeeping, buying and selling options and transfer options.

The use via mobile devices offers different possibilities depending on the provider. From simple purchases and savings plans to trading from which access is possible at any time, anywhere in the world. Meanwhile most of the previously mentioned crypto exchanges also offer apps. Such an app gives the user the opportunity to participate in real time in events on the market. But also traditional Fintech companies now offer their users the option to engage in crypto-currency transactions in addition to their normal banking business.

Investing via exchange-traded products

In addition to the classic purchase via crypto exchanges and the supplementary functions of an app, there is also the possibility of purchasing exchange-traded products (ETP). ETP's can be thought of as a kind of security with which one can participate in the price development of crypto-currencies on the stock exchange. Such ETP's therefore represent a specific crypto-currency or an index. They are passive forms of investment. The investor saves himself the trouble of dealing with the particularities of directly acquiring crypto-currencies, such as their safekeeping.
In addition to ETP's, numerous structured products are also traded. Some of them combine traditional investment opportunities, such as shares, foreign exchange or commodities with crypto-currencies. In addition, the use of derivatives allows investors to benefit from rising, falling or sideways prices, depending on the product. Particularly on the SIX Swiss Exchange, a number of ETP's and structured products that contain crypto-currencies as underlying assets are now listed. Below is an overview by issue date: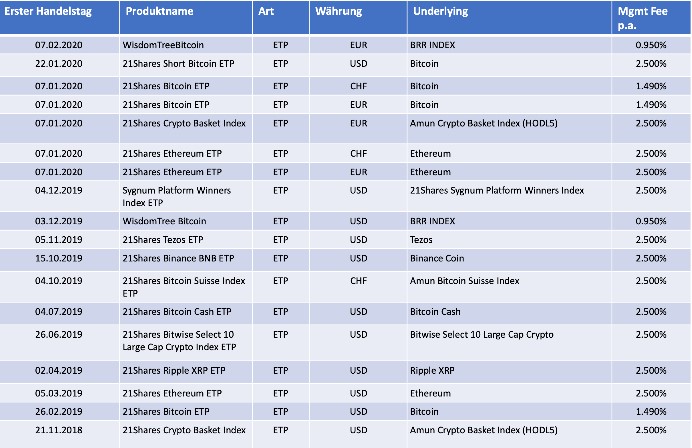 *Originally published in German at CVJ.ch